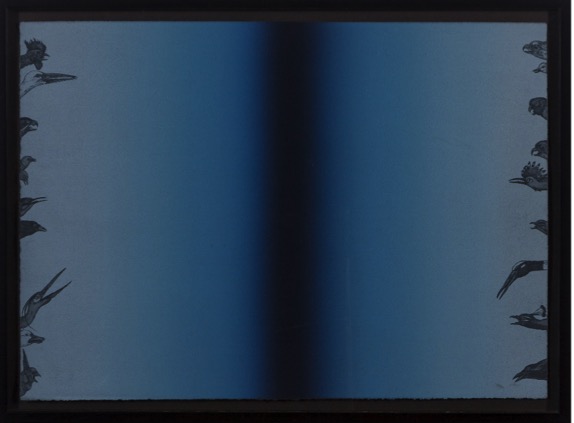 The Language of Birds
Year: 1996
Medium: Soft ground etching, aquatint, lithograph on black German Etching Paper
Location: Theatre Arts 2nd Floor

Gift of Rob Clark and Jerry Thacker
The Language of Birds is a subtle image with an unusual composition. The center of the print, typically the focal point of a work of art, features a dark black band running vertically down the center. Extending outward from the center in both directions is a blue wave gradually lightening in color from dark cobalt to a paler cornflower blue. The subject matter of the composition is visible only along the left and right edges of the print. Nine birds on the left and nine on the right, all different species, are projecting their heads into the space with beaks open as they call out across the void.
Chin was experimenting with the etching process when he created this print at Vinalhaven Press on the island of Vinalhaven, Maine. While there, he was likely inspired by the Sufi poem Conference of the Birds by 12th century Persian poet, Farid ud-din Attar. In the margins of a book translated by Akfham Darbandi and Dick Davis, Chin wrote the words, "Songs to the Shadows." Chin's striking use of a black central band could be interpreted as the visual representation of a shadow. 
Conference of the Birds is the English translation of Manteq al-Tair (sometimes written as Mantiq-ut-Tayr). The poem tells the story of a gathering of birds of the world to determine who will be Simorgh or king. The hoopoe (spiritual guide) suggests they travel to a mythical mountain to find the Simorgh (also written as Simurgh in some translations). Each bird initially introduced in the poem represents a human flaw such as pride, cowardice, envy or greed. Most find a reason to back out of the journey along the way. Those that remain must cross seven dangerous valleys. In the end, only 30 birds complete the quest. They ultimately learn that they are the Simorgh, a literal Persian translation meaning 30 birds (si = 30 and morgh = birds).
Excerpt from lines 4232-54:
There in the Simorgh's radiant face they saw
Themselves, the Simorgh of the world – with awe
They gazed, and dared at last to comprehend
They were the Simorgh and the journey's end.  
Excerpt from Lines 4272-90:
You cannot hope to see Him face to face;
You cannot hope for Life till you progress
Through some small shadow of this Nothingness.
First He will humble you in dust and mire,
And then bestow the glory you desire. 
References:
The Conference of the Birds by Attar, translated by Afkham Darbandi and Dick Davis, Penguin Books, 1984, ISBN 9780140444346