Lamar University students enjoy cheering on the Cardinals in more than a dozen NCAA Division I men's and women's sports. Competing in the Western Athletic Conference, Cardinals teams have a history of winning championships in sports including men's and women's basketball, volleyball, golf and cross country.
The baseball program has produced multiple major leaguers.
LU's new football program has heightened excitement on campus with sell-out crowds and students involved in marching band, cheerleading, the dance team and all the fun of game-day tailgating.
LU has recently added two new athletic programs for female athletes: soccer and softball.

Facilities
Lamar has some of the finest athletic facilities in the region.
The Dauphin Athletic Complex houses the Lamar football team as well as other athletic administration. The 54,000-square-foot facility lies at the south end of newly renovated Provost Umphrey Stadium. The complex contains football locker rooms, weight training and sports medicine facilities and academic centers.
The Montagne Center, which opened in 1984 and has a seating capacity of 10,080, is one of the premier basketball arenas in the country.
Vincent-Beck Stadium, home of the Cardinal baseball team, hosted the 1993 Sun Belt Conference tournament, and the 2001, 2002 and 2006 Southland Conference tournaments. View Virtural Tour
The LU Soccer Complex opened in 2009 and is one of the top facilities in the Southland Conference.
The LU Softball Complex features a fully lighted playing field, a programmable irrigation and fertilization system. Amenities for the players include spacious dugouts and locker rooms as well bullpens for both teams and a covered hitting facility. View Virtural Tour
The Lamar Tennis Facility, now named the Thompson Family Tennis Center, received a total renovation in 2009.
The Ty Terrell Track, which was resurfaced in 2001, is the site of the Ty Terrell Relays, which annually attracts some of the best prep and collegiate track athletes.
The McDonald Gymnasium opened its doors in 1958 and immediately became a campus landmark. It was the home of basketball, volleyball and high school sports. Today, following a major renovation in 2006, it is the competition venue for Lamar University Volleyball and is housed within the Sheila Umphrey Recreational Sports Center.
Provost Umphrey Stadium is

 one of the best Division I FCS venues in the nation 

seating 16,000 and features seven luxury suites.  This state-of-the-art venue was renovated in 2009 thanks in large part to the generosity of donors like the late Walter Umphrey and his partners at Provost Umphrey law firm, Education First Federal Credit Union, the Morgan Charitable Foundation and Dan F. and Sandra A. Smith. View Virtural Tour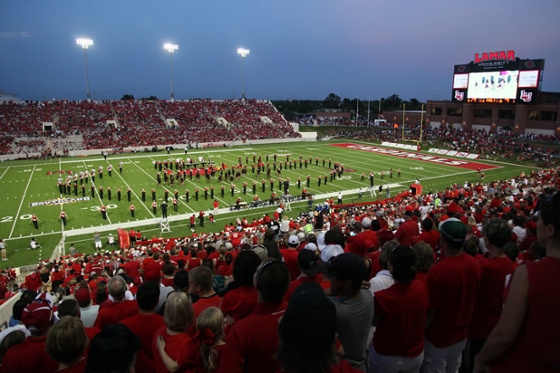 Get the latest news, check scores,
buy tickets, shop for gear and more!